Sobre nosotros
Buenos Aires Grill Restaurant te ofrece la más exquisita variedad de Argentina que puedes encontrar en Sitges. Ven a visitarnos o haz tu pedido online. Verás como te sorprenderemos con nuestras especialidades.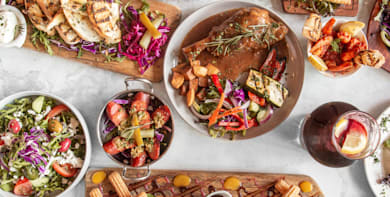 Opiniones
22 comentarios
Patrick
"I like more to go physical to your restaurant, but it was a good alternative to order take away, in order to enjoy a good steak again. Quick delivery. Thanks."
25/02/2021
Daniel
"Me gusta mucho, pero hay no chimichurri por el chorizo 😭"
05/01/2021
Joe
"Great food. Speedy delivery."
03/01/2021
Menú
Cava Clos Montblanc
D.O. Cataluña
16,50 €
Cava Castellroig
D.O. Penedés
23,50 €
Alitas de Pollo ala Provenzal
Alitas de pollo fritas con ajo, perjil y salsa barbacoa
Fried chicken wings with garlic, parsley and BBQ sauce
6,00 €
Chorizo Argentino
Chorizo argentino al grill, sevido con salsa chimichurri
Grilled argentinean sausage served with chimichurri sauce
3,75 €
Empanada de Carne, 12 Unidades
Empanada de carne vcauna (probalmente la mejor de Sitges)
Traditional argentinian beef patty (probably the best in Sitges)
39,00 €
Empanada de Carne, 6 Unidades
Empanada de carne vcauna (probalmente la mejor de Sitges)
Traditional argentinian beef patty (probably the best in Sitges)
21,00 €
Empanada de Carne, Unidad
Empanada de carne vcauna (probalmente la mejor de Sitges)
Traditional argentinian beef patty (probably the best in Sitges)
3,75 €
Gambas al Ajillo
Gambas salteadas con aceite de oliva, ajo, guindilla y vino blanco
Fried shrimps with garlic, wine and fresh herbs
9,75 €
Guacamole con Nachos
Delicioso dip de aguacate casero servido con tortitas de maíz
Spicy avocado dip with corn chips
5,50 €
Pizza 4 Quesos
Salsa de tomate, mozzarella, provolone, gorgonzola, emmental, parmesano
Tomato sauce, mozzarella, provolone, gorgonzola,emmental and parmesan
13,50 €
Pizza 4 Estaciones
Salsa de tomate, mozzarella, jamón york, champiñones, alcachofas y olivas
Tomato sauce, mozzarella, york ham, mushrooms, artichoke and olives
13,50 €
Pizza Al Tonno
Salsa de tomate, atún y cebolla
Tomato sauce, tuna and onion
13,00 €
Pizza Capricciosa
Salsa de tomate, mozzarella, salami, jamón york, champiñones, olivas negras, alcachofas y cebolla
Tomato sauce, mozzarella, salami, york ham, mushrooms, black olives, artichokes and onion
13,00 €
Pizza Hawaiana
Salsa de tomate, mozzarella, jamón york y piña fresca
Tomato sauce, mozzarella, york ham and fresh pineapple
12,00 €
Pizza la Bomba
Salsa de tomate, huevo, bacon y queso emmental
Tomato sauce, egg, bacon and emmental cheese
13,00 €
Pizza Margherita
Salsa de tomate y mozzarella
Tomato sauce and mozzarella
10,00 €
Pizza Calzone
Salsa de tomate, mozzarella, jamón york, champiñones y topping de salsa boloñesa
Tomato sauce, mozzarella, york ham and mushrooms with bolognese sauce topping
13,50 €
Pizza Regina
Salsa de tomate, mozzarella, jamón york y champiñones
Tomato sauce, mozzarella, york ham and mushrooms
12,00 €
Pizza Vegetariana
Salsa de tomate, mozzarella, calabacín, berenjena, pimiento rojo, alcachofas y cebolla
Tomato sauce, mozzarella, zucchini, eggplant, red bell, pepper, artichoke and onion
12,00 €
Pizza Pepperoni Hot, Calabresa
Salsa de tomate, mozzarella, salchicha picante calabresa y jalapeños
Tomato sauce, mozzarella, spicy calabrian sausage and jalapeños
13,00 €
Pizza Prosciutto
Salsa de tomate, mozzarella y jamón york
Tomato sauce, mozzarella and york ham
11,00 €
Vino Tinto Clos Montblanc
D.O. Cataluña
12,50 €
Vino Tinto El Portillo Malbec
D.O. Argentina
19,00 €
Vino Tinto Castellroig
D.O. Penedés
19,50 €
Vino Tinto Catena Malbec
D.O. Argentina
27,00 €
Vino Tinto Luis Cañas
D.O. Rioja
20,00 €
Yakisoba de Gambas
Gambas y verduras
Prawns and vegetables
11,50 €
Yakisoba de Pollo
Pollo y verduras
Chicken and vegetables
10,00 €
Yakisoba de Ternera
Ternera y verduras
Beef and vegetables
11,00 €
Yakisoba Mixto
Gambas, pollo y verduras
Prawns, chicken and vegetables
11,25 €
Yakisoba Vegetariano
Vegetales
Vegetables
9,75 €
Popcorn Roll
Maki de atún y pepino en tempura cubierto con atún picante y palomitas de arroz
Tuna and cucumber tempura maki topped with spicy tuna and rice popcorn
11,00 €
Sake Maki, 8 Piezas
Rollo recubierto de algas con salmón
8 piece salmon maki coated with algae
6,50 €
Spicy Tuna
Atún con salsa casera picante a base de mayonesa japonesa y pepino
Tuna with homemado spicy sauce based on japanese mayo and cucumber
7,50 €
Teka Maki, 8 Piezas
Rollo recubierto de algas con atún
8 piece tuna maki coated with algae
7,50 €
California Love
Rollo de cangrejo, aguacate y manzana cubierto con fresa y tobiko
King crab meat,a vocado and apple roll topped with strawberry and tobiko
13,00 €
Lobster Roll
Rollo de carne de langosta, pepino y queso crema cubierto con aguacate y ikura
Lobster, cucumber and cream cheese roll topped with avocado and ikura
18,00 €
Mister Miyagi
Rollo de langostino en tempura, queso crema y aguacate cubierto con salmón y mango
Tempura shrimp, avocado and cream cheese roll topped with salmon and mango
13,00 €
Pacífico
Rollo de langostino en tempura, mayonesa y aguacate cubierto con tataki de atún
Tempura shrimp, mayo and avocado roll topped with tuna tataki
15,00 €
Holy Salmón
Maki de salmón y queso crema en tempura, cubierto con tartar de salmón
Salmon and cream cheese tempura maki topped with salmon tartar
10,00 €
Ensalada Rúcula y Parmesano
Ensalada de rúcula y parmesano con nueces caramelizadas y naranja 
Rocket salad with parmesan cheese, caramelized nuts and orange
9,00 €
Ensalada Caprese
Mozzarella de bufala con tomate raf y albahaca / Bufala mozzarella with tomato raf and basil
10,00 €
Ensalada Caesar de Pollo
Lechuga romana, queso parmesano, picatostes, pollo y aliño cremoso
Roman letuce, parmesan cheese, croutons, grilled chicken and creamy dressing
7,50 €
Ensalada de Atún
Mézclum, tomates cherry, zanahoria, cebolla roja, huevo duro y atún
Mixed letuce, cherry tomatoes, red onions, carrots, boiled egg and tuna fish
6,00 €
Ensalada la Griega
Mézclum, tomates secos, queso feta y olivas kalamata
Mixed letuce, sun dried tomatoes, cucumber, greek cheese feta and black kalamata olives
6,50 €
Vino Rosado Clos Montblanc
D.O. Cataluña
12,50 €
Vino Rosado El Portillo Malbec Rosé
D.O. Argentina
17,00 €
Vino Rosado Fragancia de Marta
D.O. Penedés
21,00 €
Tortellone di Funghi con Salsa de Trufa
Nata crema y setas
Cream, truffle cream and mushrooms
16,00 €
Raviolis de Carne alla Aurora
Tomate, albahaca y nata
Tomato, basil and cream
14,00 €
Lasagna Clássica
Relleno de salsa de tomate, carne picada de ternesa, salsa bechamel y queso parmesano
Stuffed with tomato sauce, ground beef, white sauce and parmesan cheese
11,00 €
Panqueque Clásico con Dulce de Leche
Homemade pancake with dulce de leche
4,75 €
Pizza Nutella y Banana
Nutella and banana pizza
6,50 €
Cheesecake
Homemade cheesecake
5,00 €
Tiramisú
Homemade tiramisú
5,00 €
Agua Natural, 0.5L
Still water 0.5L
1,50 €
Agua con Gas, 0.5L
Sparking water, 0.5L
1,75 €
Cerveza Heineken 0,0 sin Alcohol
2,00 €
Cerveza Especial Quilmes, Botella
2,90 €
Cerveza Especial Sol, Botella
2,90 €
Cerveza Especial Cruzcampo Gran Reserva, Botella
2,90 €
Vino Blanco Clos Montblanc
D.O. Cataluña
12,50 €
Vino Blanco Can Freixes
D.O. Penedés
17,00 €
Vino Blanco El Portillo Sauvignon Blanc
D.O. Argentina
17,00 €
Vino Blanco José Pariente Verdejo
D.O. Rueda
20,00 €
Vino Blanco Gessami
D.O. Penedés
20,00 €
Vino Blanco Cinco Sentidos Torrontes
D.O. Argentina
23,50 €
Sandwich Especial Choropán
Chorizo criollo al grill servido con lechuga, tomate y salsa chimichurri
Grilled argentinian sausage with tomatoes, lettuce and chimichurri sauce
4,50 €
Sandwich Especial Entraña Angus Argentina
Entraña angus al grill, servido con lechuga, tomate y salsa chimichurri
Grilled argentinian angus skirt steak served with letuce, tomatoes and chimichurri sauce
10,50 €
Sandwich Especial Milanesa de Peceto Angus
Milanesa de peceto angus argentino, servido con lechuga, tomate y crema de mostaza
Scalope from argentinian round eye angus, tomatoes, lettuce and creamy mustard sauce
7,00 €
Sandwich Especial Milanesa de Pollo
Milanesa de pechuga de pollo servido con lechuga, toamte y salsa cóctel
Chiken scalope with tomatoes, lettuce and cocktail sauce
6,00 €
Hamburguesa Casera de Novillo Argentino Angus
Hamburguesa de novillo argentino angus con lechuga, tomate y cebolla crujiente
Home made beef burger from argentinian angus with letuce tomatoes and crispy onions
10,50 €
Sandwich Especial Choropán
Chorizo criollo al grill servido con lechuga, tomate y salsa chimichurri
Grilled argentinian sausage with tomatoes, letuce and chimichurri sauce
4,50 €
Sandwich Especial Milanesa de Pollo
Milanesa de pechuga de pollo servido con lechuga, toamte y salsa cóctel
Chiken scalope with tomatoes, letuce and cocktail sauce
6,00 €
Solomillo Angus Argentino con Patatas, 200gr
Solomillo angus argentino con patatas fritas o asadas
Argentinian angus fillet steak with chips or baked potatoes
23,00 €
Milanesa de Peceto Argentino
Breaded argentinian angus round eye scalop
12,50 €
Costilla de Cerdo al Gusto
Costilla de cerdo al grill, servido a su gusto: natural, con ajo o con salsa barbacoa
Grilled spareribs served as you like: natural, with garlic and parsley or with BBQ sauce
14,50 €
Bife Completo Angus, 200g
Colita angus argentino, al grill servido con huevo frito y pimiento rojo
Grilled argentinian angus try tip served with fried egg and sweet red papper
14,50 €
Pollo Teriyaki
Pechuga de pollo al grill, marinada en salsa teriyaki, servida con verduras salteadas
Grilled chicken breast marinated in teriyaki sauce, served with sauteed vegetables
14,00 €
Hamburguesa Angus, 200gr
Hamburguesa casera de novillo angus argentino hecea al grill
Home made grilled beef burger, made from argentinian angus young bull
13,50 €
Fajita Mexicana de Atún
Tuna
17,50 €
Fajita Mexicana 100% Angus Argentina
Mexican fajita 100% argentinian angus
19,00 €
Fajita Mexicana de Pollo
Mexican fajita chicken
16,50 €
Fajita Mexicana Vegetarian
Mexican fajita vegetarian
15,75 €
Fajitas Mexicanas Mixtas de Pollo y Ternera
Mexican fajitas chicken and beef
17,50 €
Pizza Recomendada Isabella
Salsa de tomate, cubitos de berenjenas asadas y stracciatella D.O.P. crema de mozzarella
Tomato sauce, roasted eggplant cubes and stracciatella D.O.P mozzarella cream
14,00 €
Pizza Recomendada La Genovesa Bianca
Pesto casero, mortadella, mozzarella, queso parmesano y pistacho
Homemade pesto, mortadella, mozzarella, parmesan cheese and pistachio
15,00 €
Pizza Recomendada La Tartufata Bianca
Crema de trufas, mozzarella, achicoria, jamón york, champiñones, parmesano y aceite de trufa blanca
Truffle cream, mozzarella, chicory, york ham, mushrooms, parmesan and white truffle oil
15,00 €
Pizza Recomendada Ragazzi
Salsa de tomate, tomates cherry, mozzarella de búfala, jamón de Parma, rúcula y queso parmesano
Tomato sauce, cherry tomatoes, buffalo mozzarella, Parma ham, rocket and parmesan cheese
14,00 €
Saté Ayam
Pinchos de pollo con salsa de cacahuete, especialidad de Indonesia
Chicken skewers with peanut sauce, Indonesian speciality
7,50 €
Tataki de Atún
Carpaccio de atún
Japanese style seared tuna carpaccio
10,50 €
Trufa Edamame
Judías de soja salteadas en aceite de trufa blanca
Sautéed truffled soy beans
5,50 €
Wakame
Ensalada japonesa de algas y col
Seaweed and coleslaw salad
6,50 €
Edamame
Judías de soja al vapor
Steamed soy beans
4,50 €
Harumaki Stix
Rollitos primavera caseros, rellenos de ternera y queso de cabra
Homemade spring rolls filled with beef and goat´s cheese
7,50 €
Gyozas de Carne
Empanadillas de cerdo y jengibre al vapor
Steamed pork dumplings
6,50 €
Gyozas de Verdura
Empanadillas de vegetales al vapor
Steamed vegetables dumplings
5,50 €
Tabla Chiisai, 18 Piezas
8 piezas rolls, 6 piezas maki y 4 piezas nigiri variado
23,00 €
Tabla Ookii, 32 Piezas
16 piezas rolls, 8 piezas maki y 8 piezas nigiri variado
38,00 €
Salsa Pesto Casero
Ajo, aceite de oliva, albahaca, queso pecorino y piñones
Garlic, olive oil, basil, pecorino cheese and pine nuts
13,50 €
Salsa Napolitana
Tomate y albahaca
Tomato and basil
11,50 €
Salsa Bolognesa
Carne de vacuno, tomate, zanahoria, apio y cebolla
Beef, tomato, carrot, celery and onion
12,50 €
Salsa 4 Quesos
Provolone, gorgonzola, emmental y parmesano
Provolone, gorgonzola, emmental and parmesan
14,00 €
Salsa Sorrentina
Tomate, albahaca y mozzarella
Tomato basil and mozzarella
13,50 €
Salsa Aglio e Peperoncino
Aceite de oliva, ajo y guindilla
Olive oil, garlic and chilli
10,00 €
Trufas Japo
Trufa de chocolate japonesas
Japanese chocolate truffles
5,50 €
Spekkoek
Tradicional pastel de especias de Indonesia
Traditional indonesian spice cake
5,50 €
Brownie
Brownie de chocolate casero
Homemade chocolate brownie
5,50 €
Contacta con nosotros
Encuéntranos
Carrer de Port Alegre, 17, Sitges, 08870
Horario de apertura
Por favor, ten en cuenta que el tiempo de entrega puede variar
Realizamos entregas en
08870